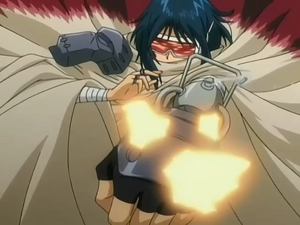 Weapon:
Nuvola Gauntlet
Weapon Rank:
B-Rank
Ring:
B-Class Rings
Lira:
900
Abilities:
Mist Bullets - capable of up to six projectiles of concentrated Mist Flames at a time with homingabilities.
9mm Bullets - normal 9mm bullets.
Mist Net - an project mist flame projectiles to form a net around its target. As the net is made of flames attempting to flee from it would cause burns.